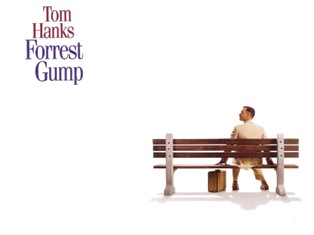 Forrest Gump
"Forrest Gump" was directed by Robert Zemeckis in 1994y. This movie wins plenty of prizes and nominations. This film shows a very interesting and romantic story. There is also a thread of war and real friendship.
The story "goes through life" of the special person. At the beginning Forrest Gump is a small boy, who lives with his mother. One day he meets an amazing girl – Jenny. From that moment they-re the closest people. Forest runs (literally and figuratively) through life meeting various people, learning about the world, experiencing war and real friendship but most of all looking for his beloved – Jenny.
I was really touched by "Forest Gump, because this film shows in simple and upsetting way how to live, how to fight with adversities. I admire Tom Hanks for his fantastic acting and for showing that people hardly ever pay attention – feel like a humiliated, other man.
This film is just perfect and I recommend it to everyone who can spot the beauty and worldly wisdom of person like Forrest Gump.
Gabriela Bissinger
---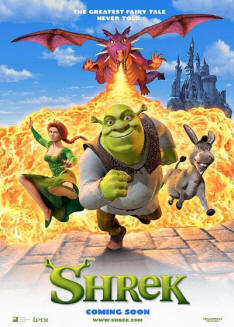 I guess there is no such person in Poland, who didn't hear about "Shrek", a film which in 2001 conquered the whole world. After the great success it couldn't be stopped. Continuing adventures of Shrek, his newly married wife- Fiona, Donkey and their fairytale friends appeared on the Polish cinema screens five years ago, but still put a smile on the faces of not only children but also adults.
The second part of this excellent comedy begins at the time of the return of a young marriage – Shrek and Fiona – the honeymoon, when they receive an invitation to dinner at the King and Queen of Far Far Away. Everything would be fine, if apart from the fact that Fiona's parents do not know that their daughter and son-in-low aren't human! Immediately afterwards comes to light that the king has already chosen for his daughter her "Prince Charming" and that this plan has come true, hires Cat in Boots-known in town tamer orgs. But not everything goes according to a plan, our main character survives, and his would-be killer becomes his friend. Along the way we encounter many interesting situations, evokes in us roar of laughter, but, as in fairy tales-all lived long and .. they were green.
The first thing that made me in continuing adventures of Shrek surprise is that "second" is (for me) much funnier than the previous one, which rarely happens in sequels. Frankly, before seeing this movie for the first time I was almost sure that nothing beats the first part. I was wrong! Dialogues, specific texts or conduct my favorite animation characters make me funny to tears, and here a great tribute to the screenwriters Terry Rossio and William Steig and the director Andrew Adamson.
You can't miss excellent references to other Disney fairy tales like "Cinderella," "Monsters Inc.", "Beauty and the Beast" and known since the first part of "Pinocchio." Also used themes from the cinema hits as scenes from "The Matrix", "Lord of the Rings," "Alien," "Godzilla" or is the most prestigious, from "Mission Impossible." It is, how easily, interwoven threads known to all admired, and in the audience burst out laughing again.
When writing reviews, one of the most famous comedy past 10 years, dubbing can't be ignored. The English version starring Cameron Diaz, Mike Myers, Antonio Banderas and Eddie Murphy, who replaced the well in the Polish version: Zbigniew Zamachowski, Jerzy Stuhr, Agnieszka Kunikowska and Wojciech Malajkat. They also have a contribution to the success of this film.
In the end, I would like to point out very well matched to the movie soundtrack. Eels, Jennifer Saunders and Richard Price are just a few performers whose voices we hear in the movie. Each song is perfectly matched to the moment in the film, which allows us to move even further into the world of Shrek and Fiona. The soundtrack was also an interesting track, "Livin 'La Vida Loca" in the unusual duo of Antonio Banderas and Eddie Murphy.
Although "Shrek II" is not one of the latest movies, every time I watch it amuses me to tears, and all the problems disappear as if by magic Fairy Godmother. I also recommend the first and the third part of the "Shrek", but the second film most appealed to me. With each part we can reach one of the great knowledge – anyone should not be judged by appearances, what we see as an example the main character. Although, I am no longer a small child, still really like this movie and I look forward to "Shrek 4", this time in 3D!
Marta Ociepa
---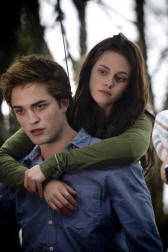 "Twilight"
• "Twilight" (2008) is an action-packed, modern love story about a vampire and a human starring Kristen Stewart as Bella Swan and Robert Pattinson as Edward Cullen. The film was directed by Catherine Hardwicke.
• This film is a screening of the first part of bestseller cycle novels wrote by Stephenie Meyer.
• Edward Cullen is a mysterious vampire who is about 110 years old. Bella Swan is a common girl who is 17 years old. Edward, in 1918, was dying on spanish flu, when a certain vampire- Carlisle Cullen- bit him. Owing thanks to this, Edward gets through it, but he happens a vampire. Forever.
• Edward and Bella's love is stormy and complicated. At the beggining, Bella didn't know about Edward's secret- that he is a creature who drink human (or not human) blood.
• In my opinion, "Twilight" is an amazing film, worth seeing.
I love it! You can't get past it!
The main chatacters in "Twilight" – Bella and Edward
Klaudia Gała kl. III gimnazjum
---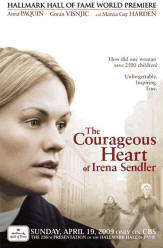 The Courageous Heart of Irena Sendler"
The director of this film is John Kent Harrison. Movie was based on a book written by Anna Mieszakowska " Our Children of the Holocaus".
This film tells about fates of Irena Sendler, which rescued about 2,5 thousands of Jewish children closed in the Warsaw ghetto.
We can admire, e.g.: Anna Paquin in the role of Irena Sendler, Goran Visnjic as Stephane, Rebecca Windheim in the role of Caroline, Leigh Lawson in the role Rabbi'na Rozenfeld, Marcia Gay Harden in the role of Janina Sendler and Danuta Stenka in the role of Hannah Rozenfeld and many others.
The place of work and the scenery were firmly prepared to fully show the history and image of Warsaw during the war. Costumes of actors show exactly what people wore during the second WW. Scenes were directed outdoor and indoor as well.
Music was fit to scenes, but it wasn't too much in the movie. There weren't too much special effects.
In my opinion The Courageous Heart of Irena Sendler gives many thoughts. This image gives me many impressions, as well as sorrow. I recommend this film for people who like realities of II world war and biographical and historical dramas.
I will see this movie again. And you must see it as well.
Sebastian Lelit kl. III gimnazjum
---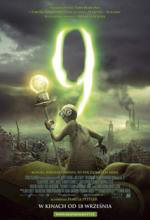 Animated;    S-f, Fantasy
Direction:     Shane Acker
Script:          Shane Acker, Pamela Pettler
Cast:             Jennifer Connelly, Crispin Glover
Premiere:    18-09-2009
Duration:     80
Distributor: Monolith
Remarkable animation, story about the world, in which only small rag doll-work  is a substitute for the humanity. Undefined time and place, where people used to live.   At first they fought between each other, later against machines. Nobody won this war, everyone fell. Today world is the wilderness overfilled with the scrap metal. In such reality one is coming back to life "9" – the main character. He doesn't know that his appearance  will change the reality and he will grant the meaning of being for eight other robots living  on the Earth.
Film " 9 " is using the kindness of fairy-tale-fantastic outlines. So we have 9,  at first lost in fact bungler which will change into hero willing to sacrifices.  We have a colourful collection of background characters and an enemy which is consuming souls for short heroes.
The producer of the film " 9 "is Tim Burton who is famous for surrealism and an abstract humour, what won't be missing in this film. Is not it sweet, that "six"  is a madman  in the striped short jacket, and "eight" will take drugs with magnet? It only two around  many of "tastes" we will find  in "9".
I warmly recommend this film!
Martyna Wręczycka kl. III gimnazjum
---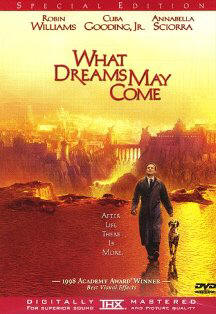 ,,What dreams may come'' (1998) directed by Vincent Ward, is a drama movie. The main stars are Robin Williams (Chris) and Annabella Sciorra (Annie). It is an incredible story about real love which connected Annie and Chris. They fell in love with each other; then got married and started a happy life. Eventually Chris died…Annie couldn't live without him and she made a suicide.
Chris went to the heaven but she went to the hell…Chris decided to go to the hell, save his wife and be with her. That is an excellent movie… a journey into a supernatural kingdom. Some scenes, such as a trip to the hell, are amazing. Special effects are excellent and the acting is good, as well. Robin Williams gave a wonderful performance, as Annabella Sciorra did. I really enjoyed that beautiful movie about love which can survive even after someone's death. That movie is simply awesome! You must watch it!
Agnieszka Trybulec kl. III gimnazjum
---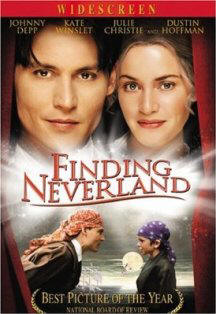 "Finding Neverland"
"Finding Neverland" (2004) directed by Mare Forster ("007 Quantrum of Solace", "The Kite Runner") is a drama film placed in 20th century London. The main stars are Johnny Depp and Kate Winslet.
The story tells about a writer, James Barrie, who's looking for an inspiration to his new book. One day during a walk in the park he met a charming woman named Sylvia and her four sons: George, Michael, Jack and Peter. Sylvia lost her husband few years ago and now she must take care of her sons alone, but it's not easy. James decides to help her with boys. He shows them a whole new world, full of adventures and beauty during their games in the garden. At last, during one of this games, James gets an idea to write a book about a boy who wouldn't grow up. Today we know this novel as "Peter Pan".
Acting, special effects and photography in this film are really great! All actors act their parts reliably and proffesional and the scene when James and the boys are pretending pirates is amazing! You may feel like a child once again! I think the most beautiful scene in the whole film is when James is showing his play to Sylvia in her own house.
I love "Finding Neverland". It's a story for mature people about mature people who have uncovered a child in themselves. It's definitely worth seeing.
Klaudyna Poks kl. III gimnazjum
---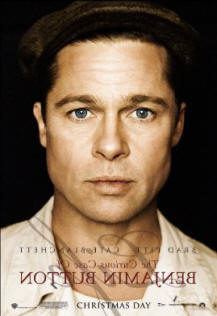 The Curious Case of Benjamin Button (2008) was directed by Dawid Fincher. Brad Pitt, Cate Blanchet, Tiola Swinton and Julia Ormoud are the main stars. This film is a story about some journey in time, about people and places that the person meets. It is about found and lost love, about joy of life and sorrow of dying and also about things that time can't change. It tells about a man, who instead of getting did grows younger and younger. We get to know the story of a hero from a woman, who is reading it to her mother. Benjamin Button was born as an eighty-year-child, and with time he gets younger. In his life he faces lots of interesting events, and meets many fantastic people like Daisy (Cate Blanchett) – his neighbour's granddaughter. Soon he falls in love with her. They experience a lot of joy and sorrow. When you are watching the film you have to pay attention to make-up, costumes and special effects. The people, who have taken part in preparing them deserve on Oscar. The effects and the total look were amazing. I think that this film is fantastic. Brad Pitt and Cate Blanchett have proved that they are very good and talented actors. Although, in my opinion, the film is a bit too long (166 minutes) and far-fetched, because the whole situation is unreal. I really enjoyed it. It's definitely worth seeing. Don't miss it.
Katarzyna Kwak kl. III gimnazjum
---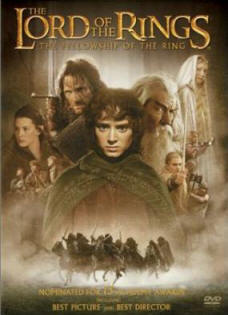 In 50's of XX th century J.R.R. Tolkien wrote a trilogy "Lord of the Rings". In 2001-2003 Peter Jackson made a movie. He worked in New Zeland and he made all three volumes as three separate movies called "The Fellowship of the Ring", "The Two Towers" and "Return of the King". All three parts last about 11 hours and 20 minutes. They tell about War of Ring and hobbit's travel to Mordor, the land of fire and shadow. He must destroy cursed Ring and he can do it just in Mountain of Destiny.
Some scenes in the movie were moved in time or deleted. Film was nominated 30 times to Oscar but it won 'only' 17 of them. Special effects were awesome specially in the big battles. I really like this film and I could watch it houndred times and it won't be bored. In my opinion "Lord of the Rings" is the best fantasy film and maybe the best film in the world.
Szymon Ankowski kl. III gimnazjum
---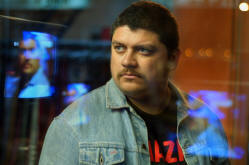 Gigante
Jara is a 35-year-old night-time security guard in a shopping mall somewhere in the suburbia of Montevideo. He spends his dull worktime solving crosswords, listening to music and watching movies. The monotony of his life is only interrupted when a young working girl Julia appears in the mall. Jara quickly falls in love with her. He secretly watches her work, but soon he finds it is not enough. He starts to follow the girl outside of the mall.
Argentinian director Adrian Biniez and his movie have dominated this year Berlin Festival. It won three statuettes, including the Silver Bear. What is more, this impressing result was achieved despite that Gigante is Biniez's debut feature film. Excellent acting, great cinematography and composition all make this simple story truly enchanting.
Joanna Lewandowska
---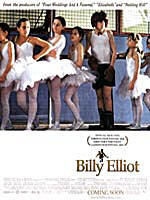 "Billy Elliot"(2000) directed by Stephen Daldry is a drama movie about the life of 11- year-old boy from the north-east England. The main star is Jamie Bell .
The movie tells the story about the life and dreams of Billy Elliot. The boy lives with his father and older brother Tony during the political and social unrest of the 1984 miners' strike. Billy's father sends him for a boxing lessons at the local village hall. Billy isn't interested in a boxing lessons. He's impressed with ballet lessons  next door run by  Mrs. Wilkinson. He drops boxing secretly and takes up ballet. Mrs. Wilkinson sees that the boy has got talent, and she decides to give him some private lessons. Billy is really fond of ballet but his Dad is strictly against it.
Getting to a royal dance school is a great dream of the boy. After all, family of the boy is changing mind about the ballet and Billy with the help of the family and Mrs. Wilkinson is getting to a royal dance school. He becomes the greatest star of the Royal Academy and finally everybody sees his incredible talent.
I think that the movie is awesome, you must see it!
Konrad Pilarski kl. II gimnazjum